We Understand Your Needs

Today's technology startups operate in an ever-changing global market, where intellectual creativity and marketing timing are equally important to ensure a successful product launch. Any delay in the new product introduction process can significantly impact the success of product launch, you company's market value and survival.
Sparqtron's NPI team has witnessed first-hand how many startup companies waste scarce R&D resources to chase after their incompetent EMS providers, which may includes debugging the critical PCBA engineering prototype, chasing delivery and material sourcing. At Sparqtron, you can rest assured that, through our Startup Support Program, your needs will become our needs, and our cooperation goes to whatever lengths necessary to keep you critical schedule on track.
Involvement in Your Process
Our Startup Support Program focuses on close cooperation during the entire product prototyping and launching phase. Through understanding we may thoroughly become your dedicated manufacturing partner, allowing you to focus your resources on actual product design.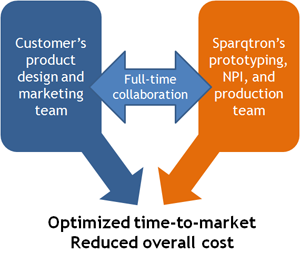 We understand that your chance of survival depends upon our speed and responsiveness. Our program strives to make your team productive and expedites your product's time-to-market:
Fully understand and support your requirements of the new product introduction process;
Utilize our team's 20 years of NPI experience to suggest manufacturing-related quality improvement and cost reduction measures;
Ensure that your prototype is well designed for production, so it's made right the first time. We always delivery high quality PCBA prototype timely so that you will no longer waste any time during the most time critical NPI (New Product Introduction) cycle;
Let your R&D team focusing on product innovation by preventing your valuable R&D resources wasted on manufacturing related tasks, such as PCBA prototype debuging, material sourcing and chasing delivery;
Provide you with further cost-reduction opportunities for volume production in our global electronic manufacturing services network.
We have great track records in helping new companies being successful. Contact us today to find out how we can help you ensure a successful new product introduction!